Featured Monthly Presentation
Are you the caregiver of a Veteran and the parent of a young child? Play the video above to hear from guest presenters from ZERO TO THREE. This group has a special focus on the needs of young children in military families. ZERO TO THREE provides tools to support parents of babies and toddlers and help you understand the importance of self-care. One skill they will teach is called mindfulness. These mindfulness skills will be used to help you calm your emotions. They will also teach skills to help calm your child's big emotions and provide resources to support you as a parent of a young child.
This month's video was developed in collaboration with ZERO TO THREE BABIES on the HOMEFRONT*
Past presentations and topic handouts can be found on the self-care topics handouts page.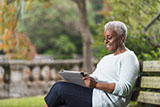 Relaxation Exercises
Taking time for yourself is so important. It may not always be easy to find the time to care for you. Just a few minutes a day participating in a relaxation activity can help caregivers feel restored. Invest of few minutes of your time to listen to a guided meditation. Sit back, relax, and allow this exercise to help restore your balance. Select a link below to listen.
Body Scan Meditation: Awareness and Healing of the Physical Body
Mindfulness Meditation: Finding Calm and Acceptance in the Present Moment
Relationship Meditation: Restoring Loving-Kindness to Yourself and Your Significant Other
Visualization Meditation: A Soothing Journey Created by the Gift of Imagination
Caregiver Support Line (CSL) Monthly Presentations
Caring for yourself is the best thing you can do for those that depend on you. The support line offers monthly education group sessions that can help. These group sessions are offered over the telephone, so you can listen in the comfort of your own home. These presentations provide self-care tips on a range of topics. Participants can comment and ask questions at the end of each live session. In order to participate the Veteran you are caring for must be enrolled in VA Healthcare. Registration is required. To register or learn more, call the VA Caregiver Support Line (1-855-260-3274).